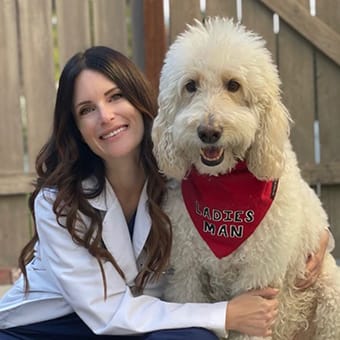 Dr. Emily Talcott
Dr. Emily Talcott is a California native who was born in San Luis Obispo and raised in Fullerton. She graduated from UCSD with a Bachelor of Arts in literature and received her veterinary degree with honors from Ross University in 2008. Dr. Talcott has been a practicing veterinarian in Southern California ever since and loves helping pets and the families that love them.
Dr. Talcott is passionate about all aspects of veterinary medicine, including preventative care, surgery, and senior care. She is honored to care for animals and is grateful to be part of a profession which allows her to make a difference in the world.
Dr. Talcott is kept busy by her twin boys and a bossy cat named Chloe who fancies ice cubes in her water. In her free time, Dr. Talcott loves being a mom, traveling, trucking through national parks, enjoying live music, and culinary adventures.