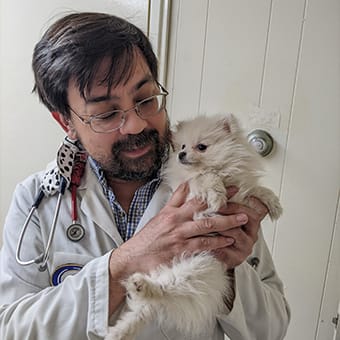 Dr. Andrew Scott
Dr. Andrew Scott is a 2003 graduate of the Colorado State University School of Veterinary Medicine. He has over 20 years of experience in small animal general medicine, emergency medicine, and surgery.
In addition to his professional work, Dr. Scott is also a dedicated family man. Dr. Scott's family consists of his wife Shannon, a wonderful daughter, Nala the Australian Shepard and Novel the cat. When there is free time, they enjoy spending time outdoors, including bike rides with Novel, and stand up paddle boarding adventures with Nala.
Dr. Scott knew he wanted to be a veterinarian from a young age. He is a proud member of the American Veterinary Medical Association and the California Veterinary Medical Association. Dr. Scott is a compassionate and caring veterinarian, and he is always willing to go the extra mile for his patients.